Sunset Sunday // FOMO // JUL. 31st
Join us the for the biggest party on the river!
BlackedOut Events is proud to present the biggest party of the summer season, only at Crawdads on the River. Mark your calendars because it's all going down July 31st! A special thank you to the team over at Sunset Sundays for letting the BlackedOut Team takeover for the night.
Introducing: FOMO on the River! Since winning the Insomniac Events Discovery Project in 2019, the DJ duo FOMO (Fear Of Missing Out) from San Diego have hit the ground running and they're not slowing down. They have a unique hybrid blend of house and trap music that gives them the new, hot sound you've just been waiting to hear. Having played festival stages across the states, they're no stranger to the game and are sure to bring the freshest sounds Crawdad's will have all summer. Their release hit single 'Mercy' has been supported by the likes of Skrillex, Diplo, Fisher, The Chainsmokers, and many more. FOMO is signed to Insomniac Events's label, Insomniac Records, and have had releases on Hood Politics as well as many other notable record labels. We are blessed to have them grace our stage at Crawdads on the River on Sunday, July 31st.
The BlackedOut Events team is sparing no expense with this show, you won't want to miss this. We are bringing in LED panels, lasers, bubble blasters, and a CO2 cannon that will knock your socks off. This will be the biggest party Crawdads will see all year, you can count on it!
We are also bringing with us an All-Star lineup of local talent to support FOMO, so make sure to arrive early to check out Sac's greatest. Below we will leave the social media names for each artist on the lineup!
This event is strictly 21+ and security is highly enforced. Valid ID's will be required to gain admission into the show, no exceptions. There is a full service bar within range of the stage so the party doesn't have to stop when you need a refill! The BlackedOut Events team would also like to extend a thank you to all of our loyal supporters and BlackedOut family that continue to bring nothing but the best vibees to our shows; we couldn't do it without you!
This show does have a limited capacity and is sure to sell out, so please do yourself the favor and get a ticket early! Prices also go up the day of the event!
-LINEUP & SET TIMES-
8pm – 9pm: Mr. Exoh (San Francisco)
9pm -10pm: Zac Black (Sacramento)
10pm – 11pm: DJ Uni (Sacramento)
11pm – 12:30am: FOMO (San Diego)
12:30am – 1:30am: Delodaze (Sacramento)
With an event like this, you won't want to be left with fomo so come join us at the party of the year with the real FOMO! Bring your friends and be ready for a good time because we're gunnu rage on the river! Follow us on Instagram @BlackedOut.Events to stay up to date with all the latest news and announcements about this show and our upcoming shows! We'll see you at Crawdads on the River, July 31st!
FOMO
Instagram: @fomomusic_
Zac Black
Instagram: @ZacBlackk
DJ Uni
Instagram: @DJ__Uni
Delodaze
Instagram: @Delodaze
Mr. Exoh
Instagram: @MrExoh_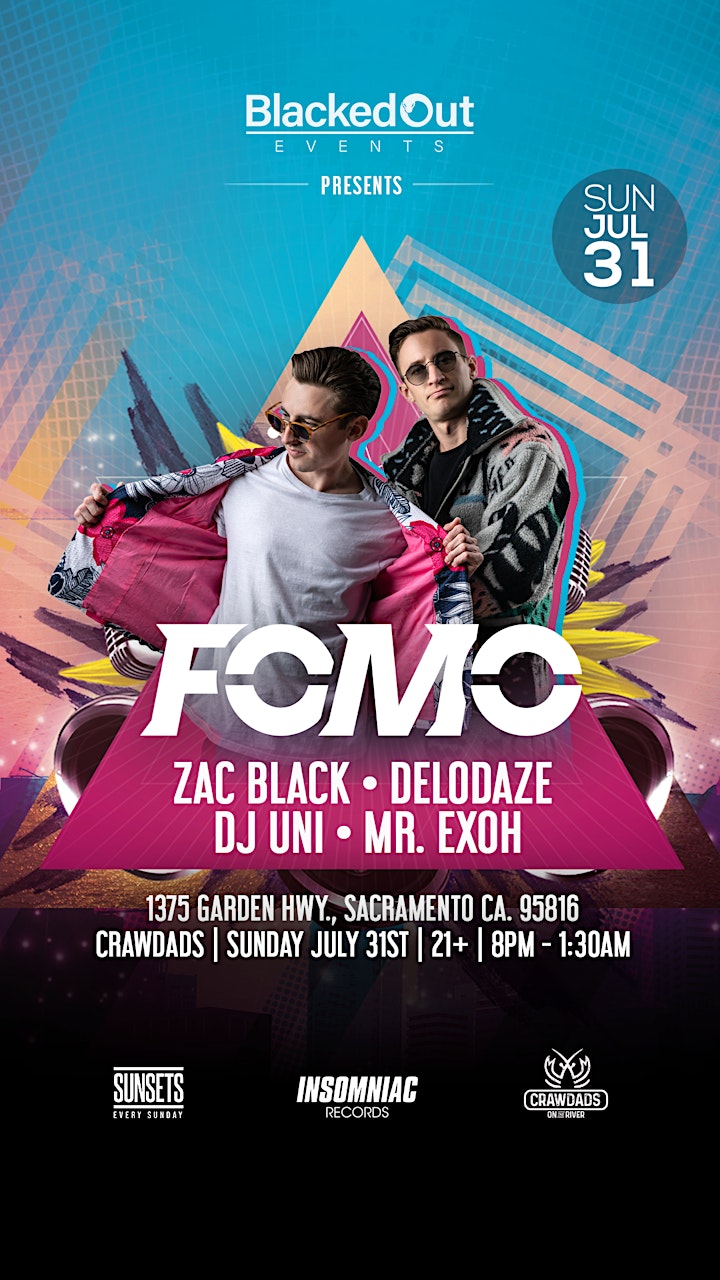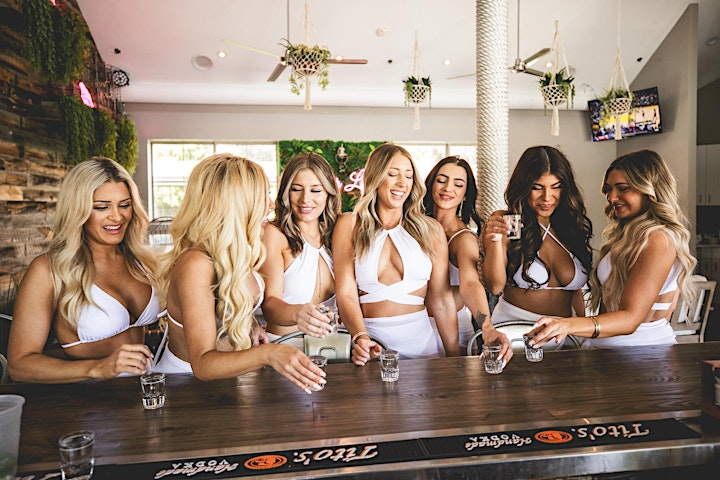 Get Live Music updates sent right to your Inbox